I start class again this week at the Fashion Institute of Technology. It's going to be a long day; work from 9-6 then straight to class until 10pm, then a 20 minute subway commute home. The long day isn't what I dread the most; it's lugging all my patternmaking supplies from work to school as it's pointless to wait for the subway 5-10 minutes for one stop when I still have to walk 4 streets to get there. My work is in the Garment District and I have to walk 10 blocks and 3 avenues through some of the busiest, overcrowded places in the city: Times Square and Penn Station. It is such a headache carrying my heavy Marc by Marc Jacobs dumpy canvas tote and my cheap portfolio case that only has a handle that is too small to fit through my wrist, all the while trying to talk on my phone and dodge the slow, lolly-gagging tourists. I need a bag to carry that is fashionable, durable, and can fit my pattern paper, rulers and all my other drafting tools. This bag by Denmark designer bARBARA Í gONGINI would be perfect.
I could sling this over my shoulder and pair it with the Alexander McQueen clutch I've been dying to have for the past several months that could hold my wallet, IPod, cell phone and lipstick:
Or if I really wanted to splurge I could buy this version: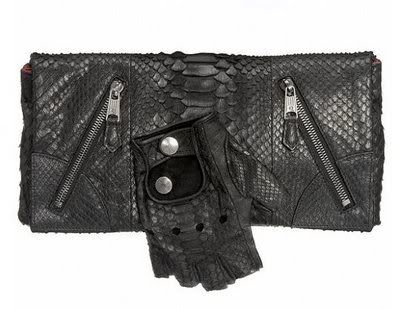 This bag is a 2 for 1 deal: a glove and clutch all in one. Plus it would be great to carry this clutch on my lunch break for the times when I like to sit in Bryant Park when the weather is nice.
I bought a pair of Chanel fingerless gloves several years ago and they are one of my most treasured possessions (worn with my favorite Zodiac bracelet that was my grandma's and given to me by mom).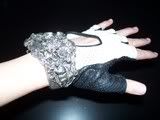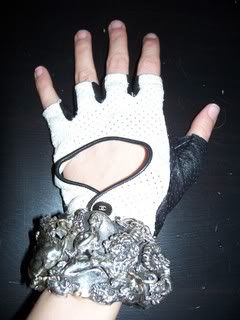 Now I need to find some sky-high heels to wear that won't butcher my feet or get torn up by the dirty city streets.